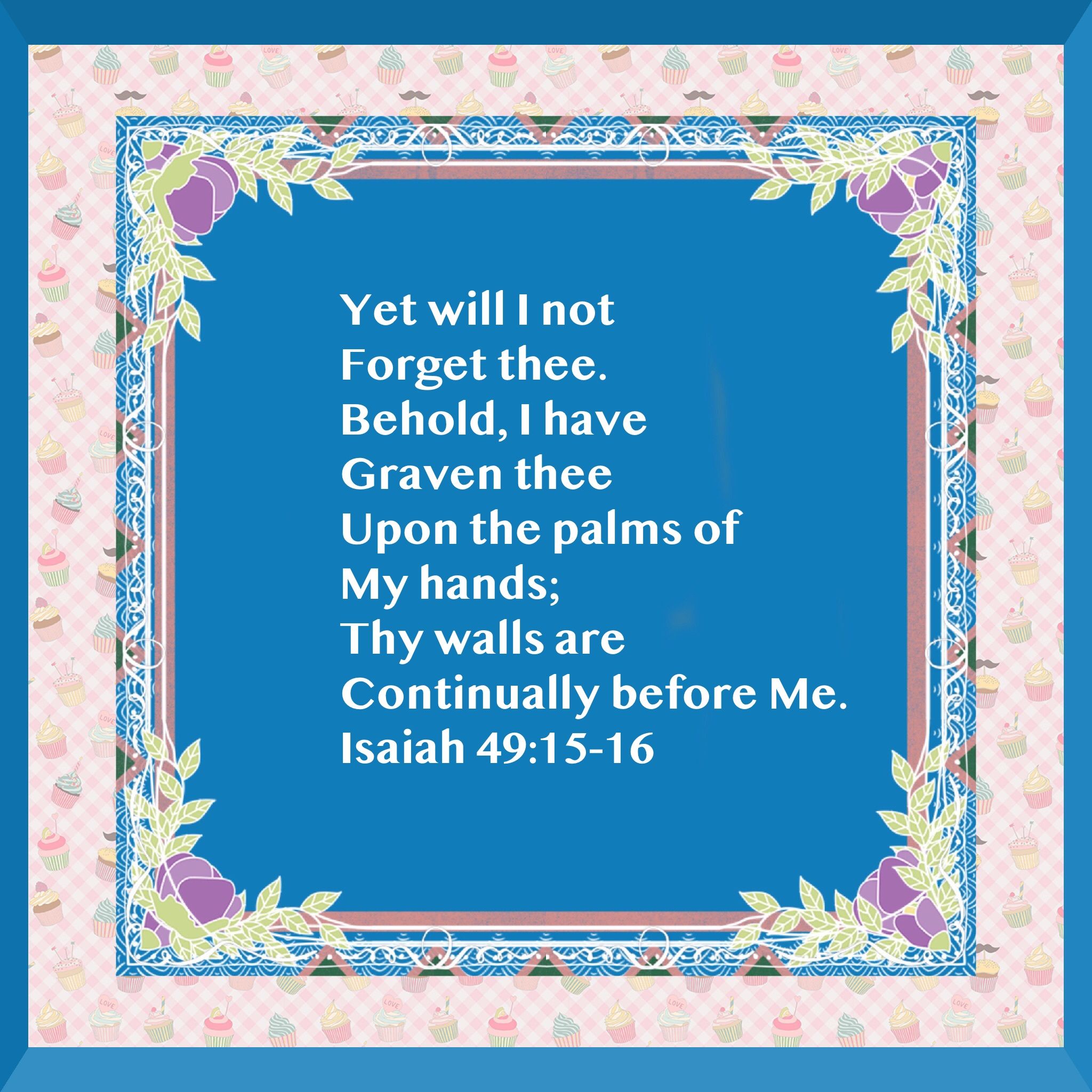 Engraved On Christ's Hand 


After Jesus rose from the dead, He had such a glorious body that His disciples at first hardly recognized Him. But less His disciples not really believe it was truly their Lord whom they had seen crucified and beaten beyond recognition with their own eyes, Jesus retained His scars, the imprint of the nails where He was fastened to the cross and where the sword pierced His side.

Thomas was a disciple who needed proof that the man claiming to be their risen Lord was really Jesus Christ:

"But Thomas, one of the twelve, called Didymus, was not with them when Jesus came.
The other disciples therefore said unto him, We have seen the Lord.
But he said unto them, "Except I shall see in his hands the print of the nails, and put my finger into the print of the nails, and thrust my hand into his side, I will not believe. And after eight days again his disciples were within, and Thomas with them: then came Jesus, the doors being shut, and stood in the midst, and said, Peace be unto you. Then saith he to Thomas, Reach hither thy finger, and behold my hands; and reach hither thy hand, and thrust it into my side: and be not faithless, but believing. And Thomas answered and said unto him, My Lord and my God." (John 20:24-28 -KJV)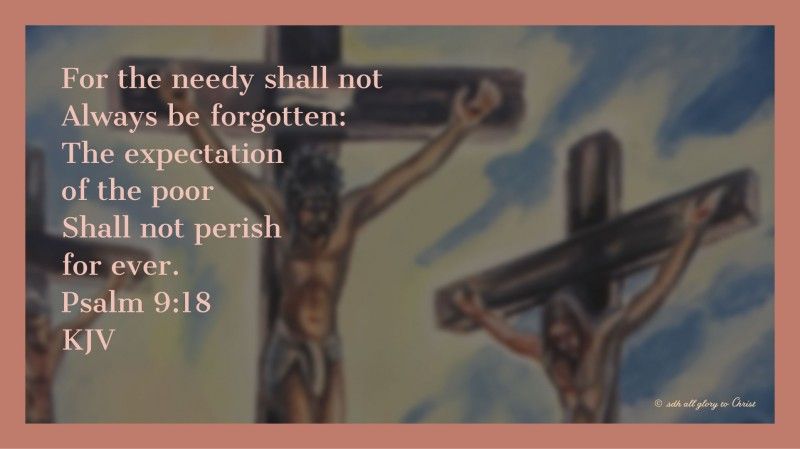 The Lord retained His scars to remind Him evermore of all the souls He purchased with His blood.
To obtain  this very costly and painful engraving of us all upon His holy hand, He endured unimaginable suffering, torture, and shame. For He had to bear the sins of all humanity to purchase it.

In the book of Isaiah written centuries before Christ was crucified, the prophet, speaking for God, wrote,
"Behold, I have graven thee upon the palms of my hands; thy walls are continually before me." (Isaiah 49:16)

Before Jesus went to the cross He prayed, "Father, forgive them, for they know not what they do."

We are forgiven, but Jesus still bears the scars of the painful wounds our sins inflicted upon Him when He bore them for us.

This shows us that there are always consequences to hurting others, even to hurting God.
He forgives us, but even in glory He bears the scars of those wounds when His heart burst upon the cross when it finally broke in grief when our sins destroyed Him. Yet He rose from that grief. He overcame it.
Christ's example demonstrates that we can overcome the wounds that others inflict upon us.

When the sins of others intersect with the lives of the innocent and wreak havoc, causing murder and mayhem, God asks us with Jesus to say as He did while Roman soldiers nailed the spikes into His hands, "Father, forgive them for they know not what they are doing." Luke 24:34 

We, like Jesus, will retain the scars of the evil inflicted upon us. But when we forgive those who harm us, we are not chained in prisons of bitterness, anger, frustration and depression.

God is going to judge those who harm others. His word says, "Vengeance is Mine, I will repay." Hebrews 10:30 


"Let us hold fast the profession of our faith without wavering; (for He is faithful that promised." Hebrews 10:23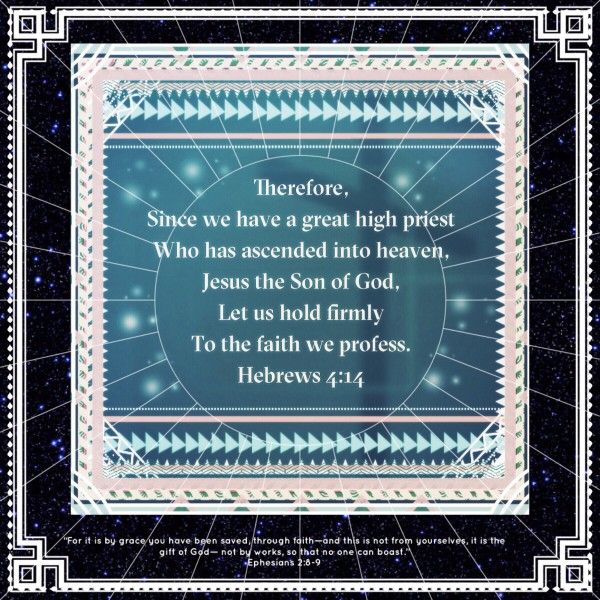 Heavenly Father,
There are many people hurting innocent people today, even as Thy holy innocent Son was cruelly murdered for no crime but doing Thy will.
We ask that You bless, encourage, and comfort all who have been victims of these recent shootings and acts of terror.
We pray also that You would help all who have been wounded in any way by those who have recklessly caused pain and hurt, leaving scars and wounds in their wake that will take a lifetime to heal, to be able to forgive, remembering that our Savior's scars from the wounds we inflicted on Him will take an eternity to heal, but that our Lord views these as engravings of His love for us.
Lord, may You grant us Thy grace to learn to see our wounds and all our pain as suffering with Christ for His glory.
Thank You, In Jesus name, amen.


 
"And if children, then heirs; heirs of God, and joint-heirs with Christ; if so be that we suffer with him, that we may be also glorified together.
For I reckon that the sufferings of this present time are not worthy to be compared with the glory which shall be revealed in us." Romans 8:17-18  
"Engraved On Christ's Hand," © Copyright 2019 by Suzanne Davis Harden, All Rights Reserved.
Prayer Song "Engraved On Christ's Hand," from the Prayersong Album, "Paths of Grace", © Copyright 2018 by Suzanne Davis Harden, All rights reserved.
Scripture Verses quotations from the King James Bible (Public Domain), Original Art/Paintings © Copyright by Suzanne Davis Harden, All rights reserved. (Images were used as Video Slides in the Video "Weeping May Endure For The Night" © 2019 by SD Harden, All rights reserved. * see sidebar to view)