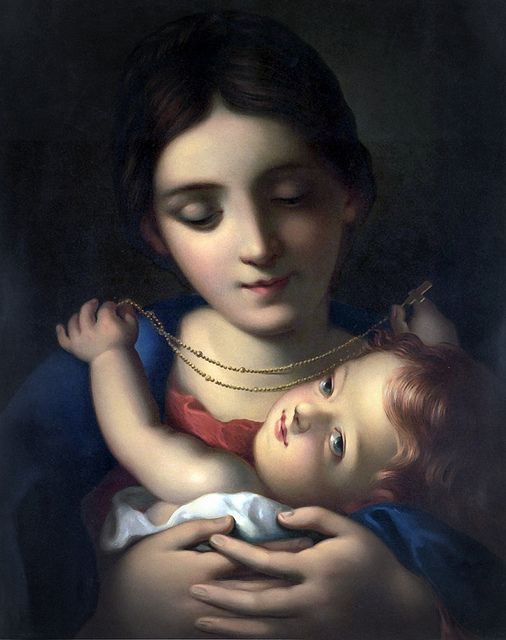 Mary and Baby Jesus (Via Pinterest)
CHRIST WITHIN US
© 2014 Suzanne Davis Harden
All Rights Reserved.
Lord, long ago You did conceive
Thy Son within the womb
Of a Virgin that He might
Become a man on earth.
Born a tiny baby
In a stable yard;
The Prince of Heaven came to earth
Stripped of Heaven's garbs.
Born a helpless baby
To sinners weak and frail,
You entrusted Deity
To people who could fail.
Lord, Thy love is measureless
Thy mercy reaches high,
Thy love for us is fathomless
As endless as the sky.
How could You trust Thy precious Son,
A weak and helpless thing,
To the care of sinful man
And know they'd faithful be?
Thy wisdom and Thy mercy
Reaches to the stars
Oh praise our Father, Lord above
Our holy Father God!
For Jesus Christ, Thy holy Son
Is given to us all
When we ask Him be our Lord
He comes into our hearts.
And we must nurture this new life
As Mary nurtured Christ,
Her tiny baby Son of God
Given Christmas night.
 We must nurture Jesus Christ
Born within our hearts,
The life that You entrust to us
When we make You our God.
We must love Him tenderly
As Mary did her babe,
As Mary sang to Jesus,
We give Him all our praise.
As Mary read to Jesus
He waxed strong and bright,
And as we read our Bibles
We will grow in Christ.
The life of Christ grows in us
As we nurture Him,
Caring for Him faithfully
As loving Mary did.
Oh Father God in Heaven
Thank You for the life
Of Thy son You put in us,
The life of Jesus Christ.
Thank You that You're molding us
And making us anew
In the image of Thy Son
To ever live with You.
Prayer
Heavenly Father, it has been said that each of us is an innkeeper that must make room for Christ in our lives each day.
Throughout this busy holiday season, please help us to keep these words in mind. Help us to remember the words of our Lord Jesus Christ Himself each morning as we awaken, "Abide in me and I in you, for apart from Me, you can do nothing."
Help us to remember that Thy Holy Spirit within us is the actual Spirit of thy Holy Son Jesus Christ in our hearts.
Help us to be as Mary nurturing the Baby Jesus and nurture the beautiful Spirit of Jesus Christ within us, developing a solid, loving relationship within Him that is ever growing stronger every day through prayer, bible study and worship.
Thank You, Lord, In Jesus' holy name, Amen.
*The Lord has blessed me with a wonderful new Holiday Album "Winter Melodies!"  If you would like to listen to the Peaceful Piano Solos  on my album, they are in the Audio Player at the bottom of this page; or you can stream the tracks from the entire album in the Prayer Song section on this website. (All Profits from my music go to Charity.)
"Christ Within Us" (Prayer Poem) © 2014 Suzanne Davis Harden All Rights Reserved.
Painting of Mary with Baby Jesus (Artist Unknown, via Pinterest)