Midnight Prayers & Meditations; 
Original Keyboard Instrumentals Inspired By The Holy Spirit 
Peaceful Celestial instrumental melodies 
This album of Instrumental prayers inspired by the Holy Spirit is one of my favorites to listen to while painting, writing, or studying, and having quiet time with the Lord. 
I love to listen to it when I fall asleep at night as I know that the music had its birth as my prayers ascending to heaven. 
The 2020 Pandemic this past year has been a challenge for everyone all over the world.
Night and day during these past long months, I have joined the many who have been praying for an end to the suffering. 
The music on Midnight Prayers and Meditations evolved out of myriad prayers lifted to Heaven. 
For I've seen so many all around me go through the shadow valley of suffering over the past several months. 
I well know this place for it seems I've dwelt here for many long years now as I've suffered from daily chronic migraines and fibromyalgia. 
Just as the Lord has faithfully been with me throughout my sojourn in the Shadow Valley, it could also be called His Shadow Shelter referred to in Psalm 91, for  those who will put their trust in Him despite all appearances that nothing good will ever happen for them anymore. That all will always be doom and gloom forever now because the suffering keeps coming day after day and there does not seem to be  any hope on the horizon. 
I know from experience that we can trust the Lord for He really is faithful, though He often does not make any sense to our rational minds.
We will be at peace as we abide under His shadow. For He has been and remains with us during these difficult times. We will look back someday and say with the Psalmist: 
"Thy way is in the sea, and thy path in the great waters, and thy footsteps are not known." Psalms 77:19 KJV 
No one wants to go through suffering and affliction.
The Psalmist wrote, "Before I was afflicted I went astray: but now have I kept Thy word." Psalm119:67  
The apostles wrote that God disciplines us to make us holy. 
Then someone might ask, "Did God send the plague to discipline us?" 
Why not ask "Why did my mother or father or spouse, or myself——-fill in the blank....have to get cancer?" 
Or "Why did my father or child or spouse or you name the person.... have to get sick and die?" 
Why did I or my spouse or my father or mother, fill in the blank——get laid off of their job? 
Why did a marriage fail? 
Why did a child, a parent, an aunt or uncle, a friend take their life? 
On and on the list of suffering is endless. 
Don't you see that those are not the right questions though? 
God did not cause the cancer or death or broken marriage or lost job or other suffering any more than He caused this worldwide plague. 
We live in a sin scarred world. 
Sin brought sickness and death to God's once perfect creation. (See Genesis 3~The Fall) 
God's word reveals that the natural outcome of sin is corruption and death. 
  "For the wages of sin is death; but the gift of God is eternal life through Jesus Christ our Lord." ~ Romans 6:23 
The Apostles taught that God uses suffering, afflictions, and trials to test and refine our faith, to bring us closer to God, and to perfect our character. 
However, our Creator is a God of love. (*See 1 John 4:8) 
He is not the Author of evil. 
John the Apostle wrote that "God is light and in Him there is no darkness at all." (*1 John 1:5) 
But God is able to weave all things, even the sad things, together for good for those who love Him.  (See Romans 8:28) 
Because of sin, there is evil, suffering, and sickness in this world. 
God has declared that all humans are sinners because we have broken His Law and that ...dust we are and unto dust we shall return. (See Genesis 3:19) 
Jesus, the Son of God, suffered and died on the cross for us so that we might have eternal life with Him and His Heavenly Father. 
He came to give us peace with God and restore our fellowship with Him. 
He died to save us from the sin that makes us want to harm our bodies, that makes us want to do what will harm others by not loving God, ourselves, or our neighbor. 
He died to set us free to love God, ourselves, and each other. 
When we ask Christ into our heart, He forgives our sins; 
He cleanses us from all of the wrong inside of us. 
He gives us a new heart. 
He makes us His child. 
He downloads His Holy Spirit inside of us to help us want to live in the right way that pleases Him. 
As we read His word we find out what He wants us to do and how He wants us to live. 
God loves us so much that He gave us His only Son Jesus Christ to suffer and to die on the cross as a holy sacrifice for our sins. (See John 3:16-17) 
By bearing our sins He could give us His own righteousness. 
We would not ever have to try and be good enough to please Him by keeping a set of rules or a Law to to get into heaven. 
Christ was holy enough, and kept God's Law for us. 
And because He kept God's Law for us, we can get into Heaven just by accepting His free Gift~the gift of His righteousness. 
"For God hath made Christ to be sin for us, who knew no sin; that we might be made the righteousness of God in Him." ~2 Corinthians 5:21 KJV 
Midnight Prayers and Meditations was the Lord's Gift to me as I asked my Lord Jesus Christ how to pray for everyone during this Coronavirus crisis and all of the unrest sweeping our nation. 
Daily people are filled with fear, stress, and anxiety and need to find comfort and peace in Him.
The Lord wants people to find a quiet place to get alone with Him, to find rest in His heart.
He will comfort them as they seek Him, for He loves each of us as if we were the only child He had to love.
"God did not choose us to suffer His anger. God chose us to have salvation through our Lord Jesus Christ. Jesus died for us so that we can live together with Him." (*1 Thessalonians 5:9-10a ERV) 
It is such a beautiful honor and joy to be able to share the gift of this music from the Lord with you now.
I pray that as you combine your own prayers with these meditative instrumental prayers, that the Lord will hear your own supplications along with these instrumentals every time their melodies are played all over the world and that He will pour rivers of healing, comfort, peace, and grace all over the earth. 
May the Lord give strength unto His people; may the Lord bless His people with peace. ~ See Psalms 29:11 
In Jesus' mighty name amen... 
I dedicate this album to my Lord and Savior Jesus Christ apart from whom I can do nothing and who inspired all of these instrumental prayer songs through His Holy Spirit, and to my Heavenly Abba Father~whom I love with all my heart. 
May the Most High God be glorified through this work in every way throughout the earth and heavens.
In Jesus' name, amen.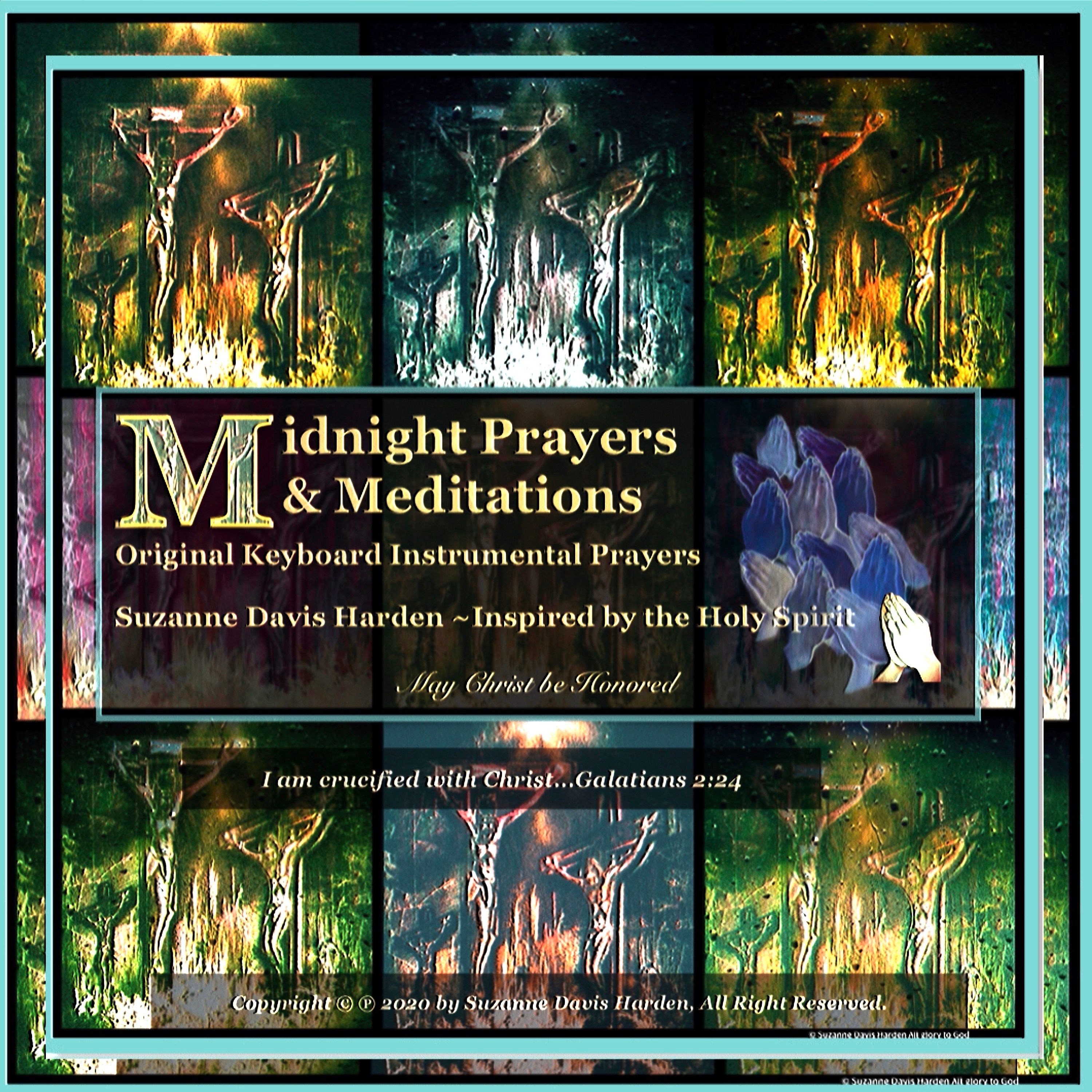 *Please click album image to sample tracks on my Hear and Now website!