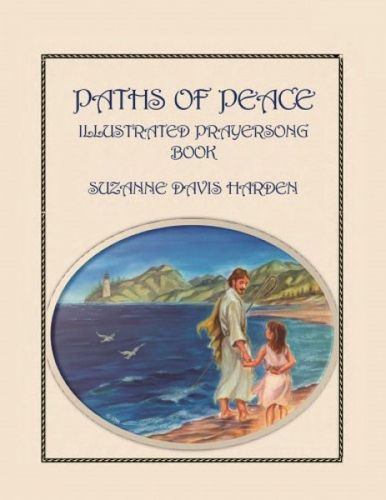 Psalm 103:1-2 (ERV)
"My soul, praise the Lord!
    Every part of me, praise his holy name!
 My soul, praise the Lord
    and never forget how kind he is!"
PATHS OF PEACE
All Glory to our wonderful God who has blessed me with a new book!  My publishing company, Wings of the Morning Publications, LLC,  recently published my first book, "Paths of Peace, Illustrated Prayersong Book," in print and eBook editions!
I have very good reason to celebrate because as someone with very little time, and yet who must work within the boundaries of an autoimmune disorder that causes me to have chronic migraines that are often so severe I cannot do anything but lie in a dark room and pray to the Lord, it is miraculous that I can accomplish the things the Lord inspires me to do.
We serve a wonderful God who gives me the grace to bear my cross through the faithful prayers and encouragement of my church, family, and wonderful friends.
I could not do a thing apart from Christ and the faithful prayers of His people.
I know this.
Despite my often debilitating affliction, God has helped me to compose music, write songs and poems, paint pictures, make albums, and videos, to manage my Etsy shop, and now through His strength to write and illustrate this book of prayer songs to comfort and encourage people.
How else but through God's amazing power and grace could I have done or do what I do?
People who know me in person realize this more than anyone because all they have to do is be with me for a few hours before they notice that my energy fades, my face turns pale, and I begin to wilt like a flower without water.
Activities that most people take for granted, I am unable to do or can only do for a little while before exhaustion takes over and I must go home to take a long nap. If I overdo anything one day, I will pay a price of being bedridden sometimes for three days or more, losing precious time off from my work.
But those days when I must spend time in bed, I will worship the Lord. Time away from work is never wasted when it is spent in the heart of God abiding in Christ.
Chronic Fatigue Syndrome is not an affliction I would wish on anyone. For as of now there is no cure.
Since 2006, when I got CFS, many people, churches, family and friends have prayed for my healing. I've been anointed with oil, and even gone to special healing services, but the Lord seems always to say "no," as He told St. Paul when the apostle begged Him to remove his "thorn" of affliction. The Lord told Paul, "My grace is sufficient for Thee."
There is an interesting verse in Psalm 33:
"No king achieves a victory with a large army.
No warrior rescues himself by his own great strength.
Horses are not a guarantee for victory.
Their great strength cannot help someone escape.
The Lord's eyes are on those who fear him,
on those who wait with hope for his mercy" ~Psalm 33:16-18
In other words, God is not impressed with strength, power, health, beauty and youth like the world is. What does impress Him though is our willingness to step out in faith no matter how weak we are and trust that He can do the impossible with us no matter how broken we are. God's strength shines brightly through our weakness. His light glows brightly through the broken pots. His glory cannot be seen through a perfect vessel.
If God is glorified in my brokenness then I will praise Him no matter how many migraines I must suffer on this earth! Because I love my Lord Jesus Christ and I know He loves me. He suffered far more than I will ever suffer when He was nailed to the cross and when He was beaten and lashed for my sins to make me His own. He had to wear a piercing crown of thorns and I think about His excruciating pain He suffered for me when my head is engulfed in pain. So I just lay it all at His feet and worship Him.
Praise our wonderful God with me for the book of prayersongs that He gave me! Praise Him with me for every album of prayersongs and instrumental music He blesses me with, for they are all from Him and gifts for His people to encourage them and to encourage me also! The Lord encourages me as He gives me prayersongs, paintings, musical compositions, and poems. I am just a conduit of His grace.
Watch the video below to take a peek inside Paths of Peace Illustrated Prayersong Book and to listen to one of the songs from the book. The book features the lyrics that I sing on my album "Paths of Peace, Songs of Love and Peace."
Please pray that God will use both the book and song and album to comfort and encourage many people for the Lord! And thank Him with me that He enabled me to accomplish this wonderful book! For truly this is miraculous!
God bless you all! ~Suzanne
Heavenly Father, thank You that with You ALL things are possible. It doesn't matter who we are or what our abilities or weaknesses are, You are more than able to work through any broken pot and do amazing things through each of us if we will only step out in faith and trust in You. We praise You for Your great power and strength and love for us! In Jesus' mighty name, amen.
Follow this link for the eBook edition of  
https://store.bookbaby.com/book/Paths-of-Peace1
Follow the Link Below for the Beautiful Large Print Softcover Edition available at Wings Publications on Etsy:
https://www.etsy.com/listing/236185040/prayer-song-book-paths-of-peace?ref=shop_home_active_33&frs=1