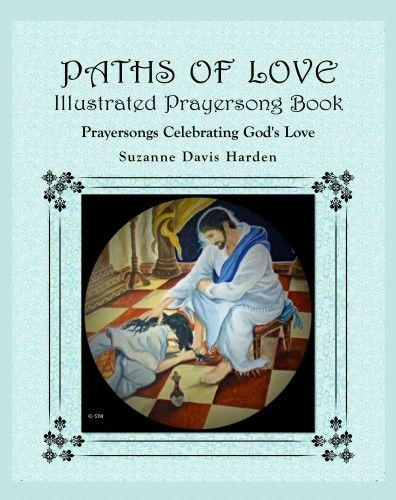 Paths Of Love Illustrated Prayersong Book
Prayersongs Celebrating God's Love~Written & Illustrated by Suzanne Davis Harden
All glory & honor to our wonderful God who has blessed me with another book in my Paths Illustrated Prayersong Series!
Book Two, "Paths of Love" features all of the comforting & spiritually intimate prayersong lyrics to my Paths of Love worship album released in August 2015.
Like its predecessor, "Paths of Peace", "Paths of Love" weaves together art, scripture, and poetry to bring encouragement and hope to readers.
"Paths of Love" leaves readers with the beautiful awareness that there is a God who cherishes each and every soul He has created as if they were the only one He had to love.
Its pages exhale the wondrous possibility that the Almighty earnestly desires each of His children to daily walk in deeper intimacy with Him.
"I have loved you with an everlasting love;
    therefore I have continued my faithfulness to you." ~Jeremiah 31:3
Like the decorative Books of Hours and Psalm Books of the Middle Ages, it is my fervent prayer that this illustrated prayersong book will inspire meditation, comfort, and encourage reader's to draw closer to the Lord on their Path of Love with Him.
"Paths" includes many new full color portraits of Jesus in His various roles in our lives: as Good Shepherd, as our Treasure, as our Holy Adonai, to name but a few.
One of my favorite illustrations the Lord has ever given me was for the prayersong "Worthy Is The Lamb" ~which illustrates Revelation 5:12. "Worthy is the Lamb who was slain
to receive power and riches and wisdom,And strength and honor and glory and blessing!"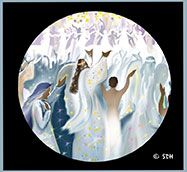 Detail: Worthy is The Lamb © Suzanne Davis Harden All Rights Reserved.
It was a great joy to paint all of the illustrations though. And I pray that each one will minister God's love, mercy, and truth to all who read the book.
The Ebook Paths of Love available at IBooks and Bookbaby.

"Paths of Love," like "Paths of Peace" is also available in a beautiful 8 1/2 " x 11" inch softcover Print Edition in my Etsy Shop. http://www.etsy.com/shop/WingsPublications
These books make beautiful devotionals, whether you download them onto your phone or other mobile device for instant encouragement to take with you wherever you go, or get the print edition as you sip your tea and have your quiet time with God; the art, the scriptures, and poetry will inspire you to look to Him who loves you beyond measure and whose thoughts toward you outnumber the grains of sand.
"How precious are your thoughts about me, O God.They cannot be numbered!
I can't even count them; they outnumber the grains of sand!" ~ Psalm 139:17-18
We serve an awesome God who does wondrous things! He cherishes each of us so much. It is my daily prayer to make this known to His children throughout the world, to encourage them in any and every way with all the resources the Lord has given me till the day He takes me home. May this book, "Paths of Love" encourage you to draw closer to the God who passionately loves you without measure.

In Christ's love,
Suzanne
"For the mountains may move
    and the hills disappear,
but even then my faithful love for you will remain.
    My covenant of blessing will never be broken,"
    says the Lord, who has mercy on you." ~ Isaiah 54:10

*Paths of Love Worship Album...
The book is the companion to my worship album, Paths of Love, Original Songs for Worship & Meditation. To listen to the songs featured in the book ~ and even sing them yourself in your quiet time!!!~~if you don't own the album, you can listen to the music via YouTube, Spotify, Apple, or a few other internet radio services ~ or directly through my cdbaby artist site.
http://www.cdbaby.com/cd/suzannedavisharden10
The album is available as a digital download at Amazon, Itunes, cdbaby and many other places on the internet. It's also available in audio format on Amazon, cdbaby, and in my Etsy Shop:
http://www.etsy.com/shop/WingsPublications
Paths of Love is Available at Amazon.com, Apple Books, and many at many other popular E-retailers around the web. You can find many links to these and most sites where my book is available at my Bookbaby Author Site, where you may also purchase "Paths of Love" directly.
https://store.bookbaby.com/book/Paths-of-Love-Illustrated-Prayersong-Book