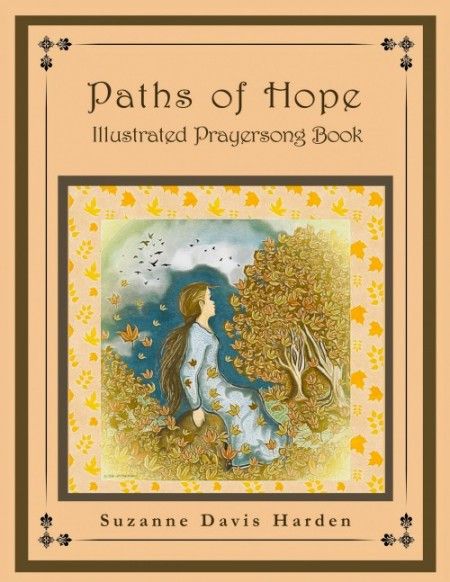 Paths of Hope is the third book in my Paths Illustrated Peaceful Prayersong Book Series. it will be released as an Ebook on March 31, 2018. Paths of Hope Ebook is available for purchase at Bookbaby and Ibooks.

The prayersongs in Paths of Hope focus on the gift of hope.
As one who has borne a cross of chronic pain and debilitating migraines caused by an auto-immune disorder for the past twelve years, I know firsthand how important the gift of hope is to those who live beneath a dark cloud of suffering.
The Prayersongs in Paths of Hope were forged in the furnace of affliction where everlasting hope is born. These prayerpoems/songs reflect the ultimate triumph of faith and hope in the midst of pain, fear, doubt, and discouragement.
Each of the "Paths" books (Paths of Peace, Paths of Love, Paths of Hope) feature the lyrics that correspond to the Paths Peaceful Prayersong Album of the same title along with the scriptures that inspired my prayer songs, complimented by my original illustrations.
Paths of Hope, like each book in the Paths Series, is a comforting, encouraging book;, a jewel of inspiration that you can download onto your phone or other mobile device and carry with you to encourage you wherever you go, whenever you need to be uplifted. It is my fervent prayer that the Lord would use this book and its companion album to provide a beacon of solace and encouragement to those who are longing to see the light of hope at the end of a long, dark path. May He be glorified forever through this book, for He inspired it all,
Jesus name, amen.
Paths of Hope Illustrated Prayersong Book 3
(Follow the above link to purchase Paths of Hope at Amazon.com)
At my Bookbaby Site you can find links to many E-retailers worldwide where you may purchase Paths of Hope. 
https://store.bookbaby.com/book/paths-of-hope