Engraved Upon My Heart
My newest Prayer Song & Video,  (*See the featured video in the left sidebar) "Engraved Upon My Heart," is all about God's love for His creation.
St. Augustine wrote that God loves each one of His children as if they were the only child He has to love.

In the Bible, in the book of Isaiah, the Lord says, "See, I have engraved you on the palms of My hands; your walls are ever before Me," (Isaiah 49:16)
"God is love..."  1 John 4:8.

God proved His great love for His creation when He sent His one and only Son, Jesus Christ into the world, to die for our sins. (John 3:16)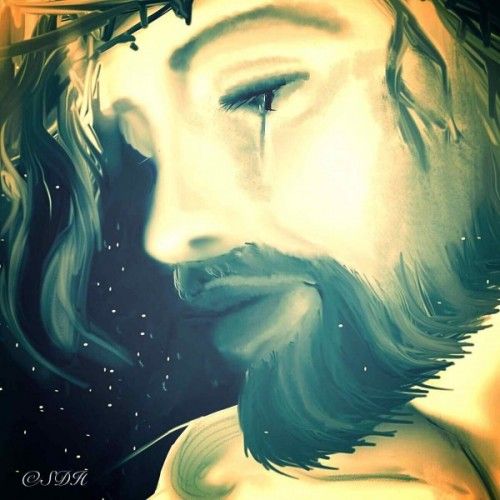 Death, or eternal separation from God, is the penalty for sin. Only the sinless, spotless blood of Christ Himself could have redeemed us from our sins.
Jesus Christ, God's Son, never sinned.

 "Therefore, since we have a great high priest who has ascended into heaven, Jesus the Son of God, let us hold firmly to the faith we profess. For we do not have a high priest who is unable to empathize with our weaknesses, but we have one who has been tempted in every way, just as we are—yet he did not sin." Hebrews 4:15  
 "For you know that it was not with perishable things such as silver or gold that you were redeemed from the empty way of life handed down to you from your ancestors, but with the precious blood of Christ, a lamb without blemish or defect." I Peter 1:18-19
Jesus Christ died an excruciatingly painful death on a Roman cross to bear all of the sins of all people for all time just so that we could become God's children.
God the Father then raised His Son from death by the power of His Holy Spirit.
Now He lives at the right hand of His Heavenly Father and within every person who receives Him into their hearts and asks forgiveness for their sins.
God then downloads a portion of His own Holy Spirit into the heart of each person who asks Christ to be their Savior and seals them forever as His very own child.
This is the way He can love each child as if they were the only child He had to love!
Once you give your life to Christ, He will never leave or forsake you. You are forever engraved upon His heart.
May this song & video help draw you closer to the God who knit you together in your mother's womb & may you be able to feel His immeasurable love for you. May you know how precious you are in His sight.
"Moreover, because of what Christ has done, we have become gifts to God that he delights in..." ~ Ephesians 1:11 (Living Bible)
Prayer
Heavenly Father, may You bless each person who watches this video and listens to this prayer song. Reveal Your truth to them, take away their doubts and any confusion that has hindered their faith. May they feel Thy love for them in a way they never have before; fill them with rivers of Thy peace & hope. Draw them closer to Thy heart and may they come to know Jesus Christ Your Son as their Savior and Lord. In Jesus' name, Amen.

GREAT NEWS!!! *The illustrations that appear in this video are from my forthcoming book "Paths of Peace Illustrated Prayersong Book." Both the ebook & print editions of Paths of Peace feature all of the comforting prayer songs that appear on my album "Paths of Peace, Original Prayersongs of Love & Peace." Look out for my book to appear online and in my Etsy shop sometime in June!


Engraved Upon My Heart Prayer Song/Video © 2015 Suzanne Davis Harden All Rights Reserved./ All Illustrations © 2015 Suzanne Davis Harden All Rights Reserved.