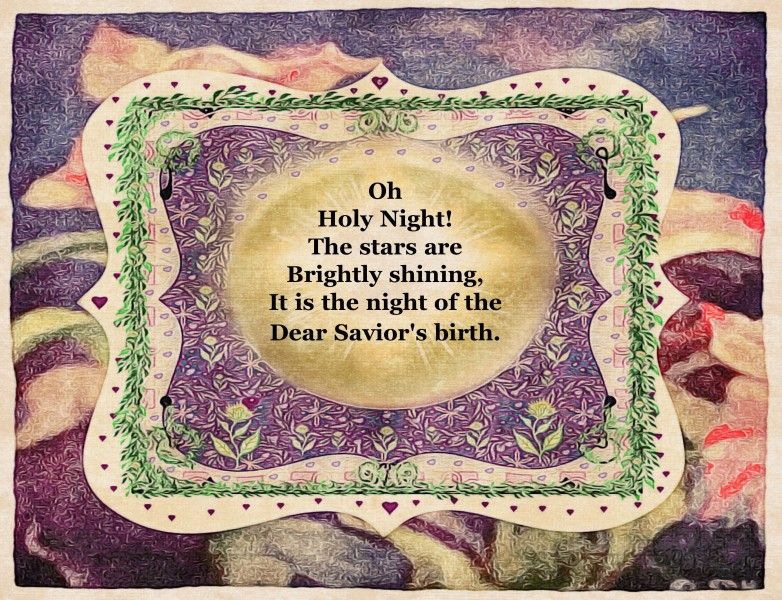 (Lord) Everything remains today in keeping with Your laws, for all things exist to serve You. ~ Psalm 119:91 (The Voice Bible)
The Story of the Song "Oh Holy Night"
Placide Cappeau de Roquemaure (1808 to 1877) was a wine merchant who lived in a small French town in the 19th century.
He enjoyed writing poetry and had developed a local reputation for his poems.
In the year 1847, the local Parish priest asked Placide if he would write a Christmas poem for the Church's Midnight Mass Celebration of Christ's Birth.
Although not known as a god fearing man, or as one who attended church regularly, Placide must have been honored by such a request, for he agreed to write the poem.
 Once he'd finished "Contique Noel" he asked his friend, the composer Adolphe Charles Adams, who was well known for composing ballets, to create music for it so that it could be sung by the congregation.
Although neither Placide nor Adolphe were Christians (Adolphe was of Jewish ancestry), these two men somehow created and composed one of the most beautiful Christmas Carols of the Christian Faith; one that especially brings great glory and honor to the Lord Jesus Christ.
Countless Christians and non Christians have sung this inspired song or various translations of it for nearly two hundred years.
Often we who do love the Lord may wonder what we can do to glorify our Savior.
There are myriad ways to glorify God each day. The word means "to acknowledge and reveal the majesty of..."
We glorify God by praising and worshiping Him, giving Him thanks for all His blessings, for never failing us, and especially for sending Jesus to be our Savior.
We glorify God by sharing our faith with others and encouraging them.
We glorify God by obeying Him; this shows Him that we love Him.
1 John 2:5 (NLT) "But those who obey God's word truly show how completely they love him. That is how we know we are living in him."
The Bible says that even the hard hearted Pharaoh who resisted God's commands through Moses to let the Lord's people go from Egypt was ultimately serving God's purpose and glorifying Him. ( God's word even says that the Lord had raised Pharaoh up to demonstrate His glory!)
Romans 9:17  (NLT) For the Scriptures say that God told Pharaoh, "I have appointed you for the very purpose of displaying my power in you and to spread my fame throughout the earth."
And so every time the King said no, God did more and more amazing miracles and demonstrated His awesome power and might to those who refused to believe in Him.
God's word says in Romans 8:28 "All Things Work Together for good to those who love God.."
The trial that appears so overwhelming may be the thing that gives us wings and helps us ultimately to bring great glory and honor to the Lord.
(Lord) Everything remains today in keeping with Your laws, for all things exist to serve You. ~ Psalm 119:91 (The Voice Bible)
Neither Placide nor Adolphe were trying to glorify God and yet they ended up magnifying the Lord in a monumental way. In fact, Placide later repudiated Christianity altogether and even renounced his beautiful lyrics to "Contique Noel.
The Church stopped allowing the Carol to be sung, but people loved it and continued to sing it in their homes.
The song found its ways across the sea to America where songwriter, Unitarian minister, and co-founder of the Harvard Musical Society, John  Sullivan Dwight, (1818 to 1893) translated it into English in 1855.
Dwight was an ardent abolitionist. He translated the words from Placide's original Carol...
"He sees a brother where there was only a slave,
Love unites those that iron had chained..."
To: "Chains shall He break for the slave is our brother;
And in His name all oppression shall cease."
John Sullivan Dwight saw a message in this song to encourage people to end slavery.
 The Christmas Carol became popular all across America especially during the Civil War, and in the Northern States.
The song remains popular today. The most well known version is John Sullivan Dwight's Translation.
Prayer
Heavenly Father, help us to understand that You are always in control, and that, even as Thy word proclaims, all things exist to serve Thy ultimate purposes. You used two non believers to create a beautiful Christmas Carol to bring glory to Thy name and to bless Thy Church. They had no idea what they were doing any more than the people who crucified Thy Son knew that they were participating in the most momentous act in history, the redemption of mankind by crucifying Thy Son so that we could be saved. This is why Jesus said as they drove the nails into His hands and feet, "Father, forgive them, for they don't know what they are doing."
Help us remember when we are facing storms & trials that You are ultimately in control and that whatever foe we are facing is on Thy leash and that  You are going to work the situation out for our good. All will be well. Christ has won our victory. You have said so and You never lie. Thank You, Lord. I love You. In Jesus name, amen.
I wish you all a beautiful Christmas holiday season and a new year filled with all of God's finest blessings. ~Suzanne
*John Sullivan Dwight's original lyrics to the familiar Carol "Oh Holy Night" are on my Christmas video "Night Divine."  See Video in left sidebar! If  you would like to compare Dwight's lyrics with the original poem by Placide Cappeau see "Contique Noel" below.
 Literal English Translation of the Original Poem by
Placide Cappeau (1808–1877).
Midnight, Christians, is the solemn hour,
When God as man descended unto us
To erase the stain of original sin
And to end the wrath of His Father.
The entire world thrills with hope
On this night that gives it a Saviour.
People, kneel down, await your deliverance.
Christmas, Christmas, here is the Redeemer,
Christmas, Christmas, here is the Redeemer!
May the ardent light of our Faith
Guide us all to the cradle of the infant,
As in ancient times a brilliant star
Guided the Oriental kings there.
The King of Kings was born in a humble manger;
O mighty ones of today, proud of your greatness,
It is to your pride that God preaches.
Bow your heads before the Redeemer!
Bow your heads before the Redeemer!
The Redeemer has broken every bond:
The Earth is free, and Heaven is open.
He sees a brother where there was only a slave,
Love unites those that iron had chained.
Who will tell Him of our gratitude,
For all of us He is born, He suffers and dies.
People, stand up! Sing of your deliverance,
Christmas, Christmas, sing of the Redeemer,
Christmas, Christmas, sing of the Redeemer!
Sweet hymns of joy in grateful chorus raise we,
Let all within us praise His holy name.
Christ is the Lord! O praise His Name forever,
His power and glory evermore proclaim.
His power and glory evermore proclaim.
The Story Of the Song "Oh Holy Night" © 2016 SD Harden All Rights Reserved. Scripture References: The Voice Bible © 2012 Thomas Nelson, Inc., New Living Translation Bible © 2015 Tyndale House Foundation
References: "The Amazing Story of Oh Holy Night"  Beliefnet.com;
"Best-loved Christmas carols. Stories behind 25 Yuletide Favorites" by Ronald Clancy. Sterling Publishing Company; Wikipedia
"Night Divine" Christmas Video by Suzanne Davis Harden
Title song from the Christmas Album "Bethlehem's Star" available as MP3 download at:
https://www.amazon.com/gp/product/B01N0EDN80/ref=dm_ws_sp_ps_dp
http://www.cdbaby.com/cd/suzannedavisharden16
*Order 3 or more Audio CDs at CD Baby and get 1 cent shipping on all Domestic and International orders! If you ever wanted to purchase audio CDs of my hymns, instrumental albums, or prayer songs, now is a good time to get them without paying shipping costs! These make great inspirational gifts!
The physical Album for Bethlehem's Star is also available in my Etsy Shop:

 https://www.etsy.com/listing/496854353/audio-cd-bethlehems-star-timeless
All of the tracks from Bethlehem's Star can be previewed in the audio widget in the left sidebar in the audio widget on this page. May the Lord use these beautiful Christmas carols to bless you throughout this holiday season!