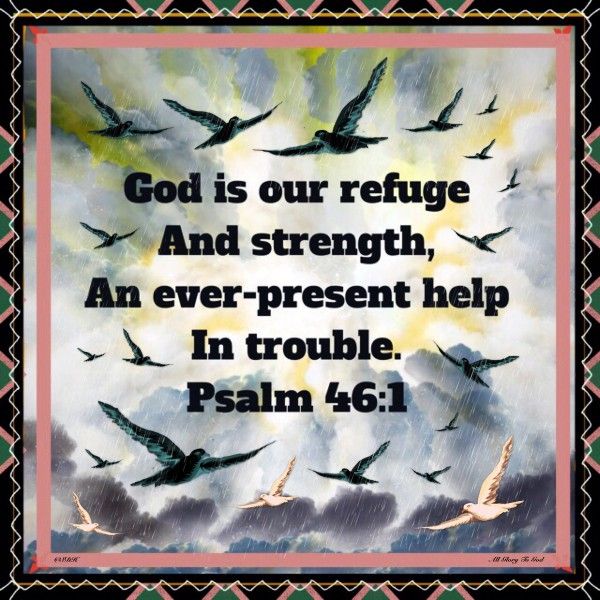 God is Our Refuge

"God is our refuge..." ~Psalm 46:1
In Psalm 46:1, the Psalmist calls God his "refuge."
 The original translation of the word means "shelter," a place of safety or covering from storm or danger.
In Psalm 46 the word for "Refuge" is translated

מחסה makh-as-eh 'Definition: a shelter (literally or figuratively)
Usage: hope, (place of) refuge, shelter, trust.
Notes: refuge, shelter, from rain or storm, from danger, of falsehood.
From a word meaning "To seek refuge, flee for protection, to put trust in God, confide or hope in God..." חָסָה châçâh, khaw-saw'; a primitive root:  
From another word: בָּטַח bâṭach, baw-takh'; a primitive root; properly, to hie for refuge...figuratively, to trust, be confident or sure:—be bold...
*(Strong's Bible Concordance & Thayer Bible Dictionary)
God is a Refuge of Trust
 Another meaning of the word refuge is "trust."  

The Psalmist sees God as someone he can put total confidence in and therefore, even though he cannot see the Lord, he believes and trusts completely in Him and in all that He says.
 
The Psalmist points out metaphorically that if we put our trust in material things like our money, our job, our social status, our physical appearance, our health, our spouse, our family, our government, etc., then all these things can disappear in an instant like mountains falling into the sea, as verse 2 of the Psalm so graphically portrays:

"God is our refuge and strength, a very present help in trouble. Therefore will not we fear, though the earth be removed, and though the mountains be carried into the midst of the sea... ~Psalm 46:1-2 (KJV)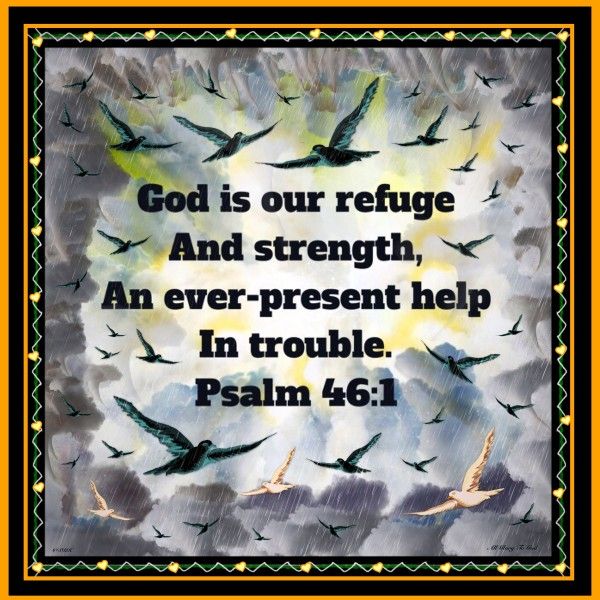 Though every material Refuge and hope is taken away and crumbles into the sea, the Psalmist says he will not be moved because his Refuge will still be standing firm and unshakable.  
God Is A Refuge Of Hope 
 Another meaning of the word refuge is "hope."
The Psalmist has placed all his hope in God.
If we try to stand on a surface that is not stable we will fall. That is the same as placing our hope in material things.
 Everything that we can see, feel, taste, and touch belongs to the material world and it is not permanent. It can fail us at some point so we are not wise to put our hopes in temporal things.

Although the Psalmist cannot see God, he believes that the Lord is not going to fail him, but will see him through every crisis because of who God is.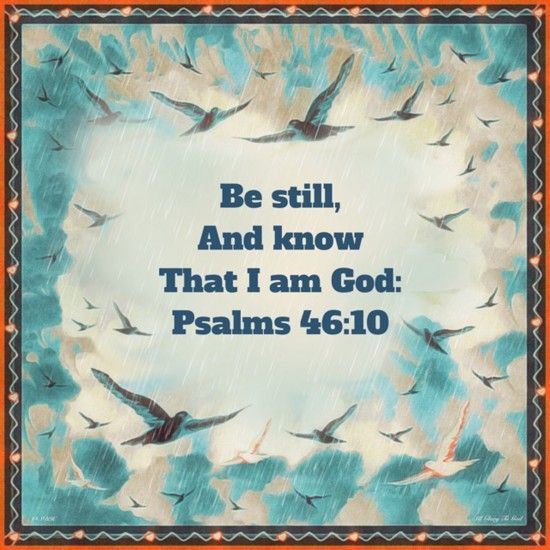 God Is A Refuge Of Truth 

The Psalmist's word for "refuge" also helps us to know that God is a refuge from falsehood.
Many people abide in refuges that make false claims of health, wealth, beauty, longevity, popularity...the list is endless.
 The Psalmist believes that God is a Refuge of truth and in Him there is nothing false.

Numbers 23:19 (ERV) says, "God is not a man; he will not lie. God is not a human being; his decisions will not change. If he says he will do something, then he will do it. If he makes a promise, then he will do what he promised."

 
Throughout the Bible we are reminded that God never lies, that He is faithful and true to His word.  
 In the New Testament James the Apostle wrote , "Every generous act of giving and every perfect gift is from above and comes down from the Father who made the heavenly lights, in whom there is no inconsistency or shifting shadow.." ~James 1:17 ((ISV)
 
In 1 John 1:5 we read, "This is the message that we have heard from Him and declare to you: God is light, and in Him there is no darkness—none at all!  (ERV)
 Jesus said of the Holy Spirit in John 16:13 (ERV), "Yet when the Spirit of Truth comes, he'll guide you into all truth."

Of Jesus, Peter wrote, "He never sinned, and he never told a lie." 1 Peter 2:22  (ERV)


God is a Refuge of Love.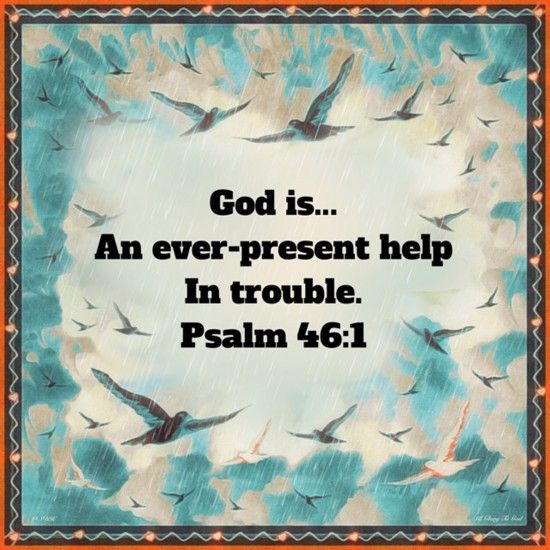 Psalm 36:5 (ERV) says, "Lord, your faithful love reaches to the sky. Your faithfulness is as high as the clouds.." 

Psalm 103:3-4, 8-13 ( ERV) says of God, "He forgives all our sins and heals all our sicknesses. He saves us from the grave, and He gives us love and compassion. The Lord is kind and merciful. He is patient and full of love. He does not always criticize. He does not stay angry with us forever. We sinned against him, but he didn't give us the punishment we deserved.
His love for his followers is as high above us as heaven is above the earth. And he has taken our sins as far away from us as the east is from the west. The Lord is as kind to his followers as a father is to his children."
 
With such a loving, merciful, forgiving God, it is no wonder the Psalmist had such complete confidence and faith in Him!  

Not only does God's word reveal that He is loving, merciful, kind, and forgiving; He promises never to fail or forsake those who put their hope and trust in Him.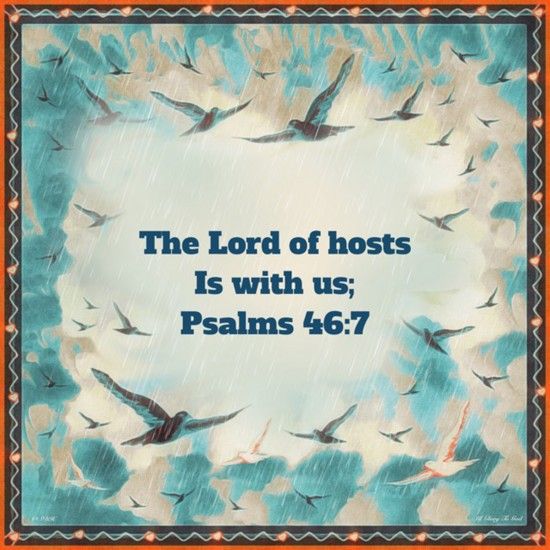 Deuteronomy 31:8 (ERV) The Lord will lead you. He himself is with you. He will not fail you or leave you. Don't worry. Don't be afraid!"

Joshua 1:9 (ERV) "Don't be afraid, because the Lord your God will be with you wherever you go."  

Hebrews 13:5 (ERV) "God has said, "I will never leave you; I will never run away from you." 
Like the Psalmist, we may not be able to see God, but He is the safest, most secure Refuge we could ever put our faith, hope, and trust in.  

And once we commit our hearts to Him, we will find that He is just as real as we are.  We will be able to say with the Psalmist,
 
"The Lord of hosts is with us; the God of Jacob is our refuge." (KJV)
~Psalm 46:11 

Prayer 

Heavenly Father, I ask You to be my holy Refuge and Strength, be with me through every storm, meet all my needs, thank You, merciful Lord, I love You, in Jesus' name, amen.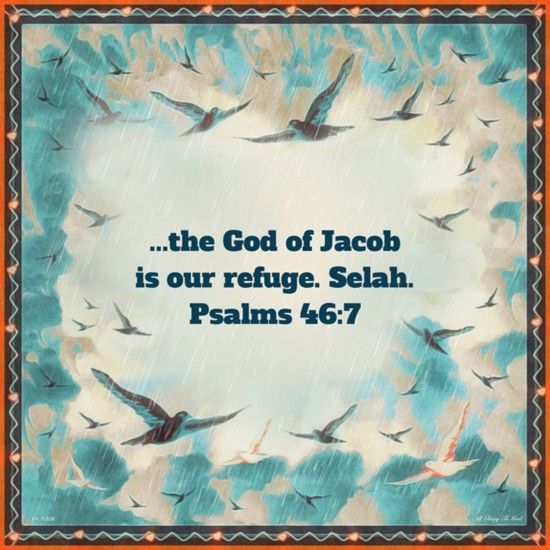 Dear Friends, my featured video is "God Is Our Refuge" and can be viewed in the left sidebar.
It presents all the words to this beautiful Psalm against a backdrop of a peaceful piano solo from my new instrumental album, "God Is Our Refuge."
All of the music from the album can be streamed in the audio widget in the left sidebar.
Thanks for stopping by! God bless you!
Love, Grace & Peace,
Suzanne
Bibliography   
Strong's Bible Concordance, ( Strong's H982~בָּטַח bâṭach; Strong's H2620~,חָסָה châçâh,; Strong's H4268~ מַחֲסֶה (machaceh), https://www.blueletterbible.org/lang/lexicon/lexicon.cfm?Strongs=H982

Scripture Quotations: ~Easy-to-Read Version (ERV) Copyright © 2006 by Bible League International: KJV~King James Version Bible (Public Domain): ISV~International Standard Version Bible; Copyright © 1995-2014 by ISV Foundation. ALL RIGHTS RESERVED INTERNATIONALLY. Used by permission of Davidson Press, LLC.
 God Is Our Refuge © 2017 Suzanne Davis Harden All Rights Reserved./ Scripture Paintings © 2017 Suzanne Davis Harden/ All Other Material Peaceful Prayersongs © 2017 Suzanne Davis Harden All Rights Reserved.
All Glory To our Awesome God!